Stünings Medien
Publishing and Printing company implements Data Loss Prevention, safeguarding copyright–protected content.
Companies in the publishing and printing industry are often using Macs instead of Windows computers when it comes to producing their content. Reliability, comfort, and design were the main reasons. Since users typically do not switch to Windows, Mac networks continue to grow and are especially popular in the media industry. That is the case for Stünings Medien GmbH, as well. Stünings' 110 employees are developing solutions in key areas like printing, publishing, internet and advertising, using 75 Apple computers.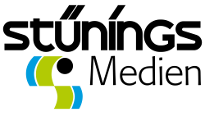 The Challenge
Stünings Medien is the biggest printing company in Krefeld (Germany), publishing journals, travel guides, and reference books and developing websites and apps for smartphones and tablets. Employees' daily activities involve working with content that is copyright-protected by external authors or photographers. The challenge for Stünings Medien was finding a solution to avoiding unauthorized text or image being published and eliminate liability, financial risks as well as a bad reputation that such an incident would cause for the company.
Why Endpoint Protector?
Technically leading in monitoring Mac OS X
Virtual Appliance is set up within a few minutes
Intuitive user interface
Offline Temporary Passwords for USB devices and computers
The Solution
The search for a product able to provide Device Control for Macs led to few suppliers. Endpoint Protector from CoSoSys was among the two solutions that were shortlisted and evaluated closely. The user-friendly interface and feature-based structure of Endpoint Protector were clear at first sight, providing the possibility to manage the software with ease. A number of technical features for Macs - the control of USB and peripheral ports, as well as confidential content transfers – convinced Stünings Medien that Endpoint Protector was the right solution. The possibility of creating whitelists to temporary use certain devices and especially the reporting and analysis features were considered extremely valuable. Stünings Medien decided to go with the Endpoint Protector Virtual Appliance, specifically with the Device Control for Mac OS X module.
The setup of the appliance took very little time; the client software was enrolled to the endpoints from the server web-based user interface. Initially, Endpoint Protector was used for a few days to simply monitor and evaluate the logs related to USB devices. Then, the final policies were created according to the internal policy and compliance requirements. After a few months since Endpoint Protector has been protecting the Stünings Medien computers, Ory Janßen, the head of IT was truly happy with the implementation. His feedback can be seen as a valuable incentive for upcoming features of future releases.
Furthermore, the intuitive and granular reporting is a big help. "With Endpoint Protector, we have the overview needed to evaluate the employees' activities. For example, it is easy to comprehend which devices were connected and what content was transferred.", stated Janßen. The policies of the company can be supported on a technical level by informing users about actions that do not comply with their access level or with the company policy. The decision of blocking or allowing a device can be done with high accuracy. Moreover, in the event of data loss or data leaks, which no security solution can avoid completely, the incident can be logged and reported. The IT administration can easily understand who transferred which data on what device. The log files help to prove that a certain data transfer leads to a data loss.
With Endpoint Protector, we have the overview needed to evaluate the employees' activities. For example, it is easy to comprehend which devices were connected and what content was transferred.
Ory Janßen
Head of IT Stünings Medien GmbH